Vision Tech Summer Technology Camps 2015 Highlights:
Kids making new wireless TNT canon and huge custom adventure map in 3D Game Design with Minecraft
Kids made custom mob in the Minecraft Modding camp
Kids Designing their own custom maps in Minecraft camp
Arduino robot competition with kids building their own custom robot and programming in Computer Science and Robotics Engineering Camp
Minecraft Camp for younger group of kids ( 7-9)
Working and installing Minecraft Modpack in Minecraft Mastery with Modpacks Camp
Kids programming their virtual robots in LEGO Robotics & Virtual programming Camp.
Kids setting up their own Minecraft Server with awesome survival game map and shops in Minecraft Server Set-up camp
 Kids designing and printing a catapult and yoyo in 3D printing camp
Kids design their own game controller and 3D printed their design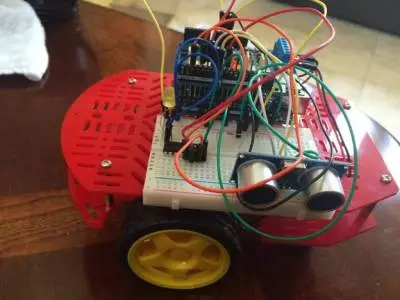 We were so proud of kids work and enthusiasm in participating in fun challenges. Again, thank you so much to all parents for taking the time out on Friday and celebrating kids success with us. We loved working with our kids in summer and looking forward to seeing all of them again in June.
So, what do we have for 2016 Summer Tech Camp at VisionTech!
Tech camps are becoming the ultimate place where kids & teen can explore learning new technology skills. From girls learning to code to the "Maker" and "Tinkering" phenomenon encouraging kids to design and print 3D objects. All camps are designed to be project-driven, hands-on programs that give campers a fun learning experience. Over the summer kids choose to participate in multiple different camp courses to create a unique blend of learning experience tinkering with Arduino to making mods for their favorite Minecraft game.
New Tech Camps for 2016 Summer:
Ages: 7-10| Week: June 13 – 17,2016 | Location: Danville and Saratoga
In this camp, kids take their LEGO designs to another dimension with robotics! Kids will use computers to build and program their robots. This camp is great for beginners and experienced users. Kids will build planes, boats, and rescue mechanisms, and then learn to write programs using a visual programming language to tell their robot what to do.
Ages: 7-10 | Week: July 15-19, 2016 | Location: Danville
In Adventures in Engineering & 3D printing camp kids will get to explore different fields of engineering. Each day will be filled with kids creating innovative solutions for engineering challenges, exploring and building their own unique solutions and using a 3D printer to test, build, and iterate upon their solution. This camp is sure to be very popular with kids who are curious about building, testing, and taking things apart.
Ages: 7-10 | Week: June 13-17, 2016| Location: Danville & Saratoga
This camp is for some who loves Minecraft and would love to learn how to take their Minecraft skills to another level. Kids will learn to build cities, vast fortresses, incredible caverns and more in Minecraft using the techniques of the best builders!
Ages: 7-10 | Week: June 27-July 01, 2016 | Location: Danville
In this camp, kids will learn to design and create their own video game using Tynker's easy-to-use drag-and-drop development tools. Using Tynker's visual code blocks, kids will create their own characters, add multiple levels, and transform their ideas into a game while learning how to program.
Campers in this programming camp will take home their Tynker and their games can be played on the web, iPhone, and Android devices.
Age: 13-17|Week: August 8-12, 2016
In this camp teens will explore level design with the award winning Team Fortress 2 from Valve! Using the Source 2 engine and the Hammer Editor, design environments, add effects, and create custom gameplay for your own maps for Team Fortress 2. Balance your maps for competitive multiplayer by choosing spawn locations, game objectives, health pickups, chokepoints and share your levels with others! At the end of camp, you will take home your levels and Steam Account with access to Team Fortress 2.
Age: 13-17|Week: August 8-12, 2016
In this Game Design camp students will learn game development through the exciting world of DOTA 2! Campers will use the Source 2 gaming engine and the DOTA 2 workshop tools to create your own game modes and levels. Use the Lua Scripting language to customize your items and heroes to make a fun multiplayer experience.
2016 Summer Technology Camp Locations:
San Francisco East Bay
Danville,California
117 Town & Country Dr #B Danville, California
(easily commutable from Alamo, San Ramon, Dublin, Pleasanton, Livermore, Walnut Creek, Orinda, Moraga and Lafayette.)
Piedmont, California
800 Magnolia Avenue,
Piedmont, CA
(easily commutable from Oakland, Berkeley, Alameda, Emeryville and Orinda)
San Francisco South Bay
Saratoga, California
4375 Saratoga Avenue, Suite 104
Saratoga, California, 95070,
(easily commutable from Los Gatos, San Jose, Cupertino, Palo Alto, Los Altos, Sunnyvale, mountain View, Los Altos Hills and Santa Clara)