Every year as Spring approaches, parents start their search for that perfect summer camp that's a great fit for their child. Whether it be a sports camp, speech & debate camp or a tech camp. It is a great time to be a kid – with so many choices available, especially in the bay area, parents can create the perfect blend of memorable summer camp experience for their children. One or two weeks in educational type camps and few weeks relaxing at an outdoor camp or exploring other hobbies. Voila! You have a perfect summer.
Tech camps are a new breed of summer camps that only became popular in last 10 to 15 years. With so many technologies from iPads to smart phones in kids hands, it makes sense that they not only learn using these tech toys, but design with them too. Enrolling in just one week of summer tech camp a kid can learn the basics of video game design to even designing and printing a 3D object. Kids can explore many fields of technology not available to them in a regular school environment. This tech knowledge is not just for fun, these are fundamental tech skills that kids will use in school projects, competitions and for personal growth throughout their life time. These tech camps offer that perfect balance of hands-on and focused time to delve deeper into a subject that they are curious about.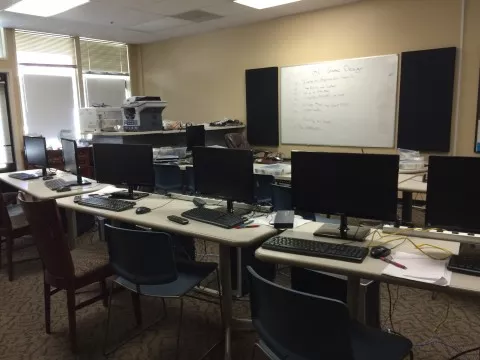 At Vision Tech we keep our camp size small, and provide each child with their own computer and material to be used during camps. Also, having a permanent tech lab – not a pop-up type – allows us to maintain and set up our equipment better, that means less downtime for technical difficulties.
For example, in 3D Printing camps printers needs to be set up and working before camps starts or kids will not have access to the printer until the printer is fully set up and calibrated – a process bound to take many hours. Robotics camp is an another example where not only you want to be ready for that first programming lesson before camp starts but have a set up ready for robotics tournaments' that will allow kids to practice their coding skills.
The ways we learn technology has also changed. For example, in old day if someone wanted to learn to code they would straight dive into writing up a short command line for very uninteresting results as "Hello World." Now kids have unimaginable tech tools. They can learn to code by modding Minecraft code in Minecraft Camps or start learning programming by coding their robots in Robotics Engineering camps. If they are into Video Games they can try creating a next hit like Flappy Bird. Now that will make any parent proud!
Teaching technology to kids requires that the curriculum be child friendly and fun. Kids learn best when they are having fun. Many of our tech camps such as Minecraft, Video Game Design, even programming courses are loved by kids because we make it fun by designing curriculum that involves them making or designing fun tech solutions of their own creation. They are the creators of the material they take home after camps are over.
We can only achieve such positive summer experiences for kids by hiring teachers who are not only experts at what they are teaching, but understand that real learning comes by doing. They must have both passion and patience to teach kids. Therefore, our instructors encourage kids to be creative and explore new ideas without any reservations. I am amazed and thrilled every summer to see kids original work and their creativity – be it be a video game they designed or a new mod they coded in Minecraft Camp. Whether it is an Engineering camp or video design camp or a programming camp – a good summer tech camp can catapult a child's enthusiasm to learn a tech subject to a new level.