Teaching programming to kids used to involve lectures about difficult programming concepts such as conditional structures, variables, and classes. Now, a San Francisco Bay Area company is using a new strategy to teach programming to kids as young as ten.
A Bay Area summer camp provider, Vision Tech Camps, has just announced three new locations in California – Palo Alto, Saratoga, and Burlingame, in addition to their flagship center at Danville. Vision Tech's mission is to create a positive impact on technology education for kids. In 2013, Vision Tech decided to harness the popularity of Minecraft to teach kids Java programming. Using Minecraft, Vision Tech attracts significant new interest by kids to programming-based courses – many of whom have never touched a programming language before in their lives, but are inspired to do so in order to unlock the full potential of their favorite game.
---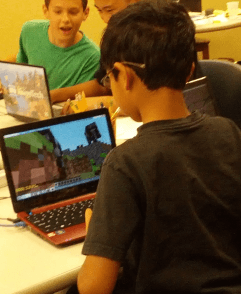 Minecraft is a very popular game among kids where players use blocks to build complicated structures, buildings, hideouts, and more. Using Java, the game of Minecraft can be heavily customized to create special blocks, creatures, vehicles, automated machines, and many other modifications. While kids are learning to modify, or "mod" Minecraft in camp, they learn about Java topics such as classes, conditional structures, variables, inheritance, and methods – without even realizing it.
Improving technology education is one of the most pressing issues of our time. A government report by the Bureau of Labor Statistics shows that the job outlook for software developers is projected to rise 22% over the next 10 years, much faster than the general job market. Who knows — a summer spent learning programming might just lead to the next Facebook or Google.
Minecraft Camps